We had an amazing challenge for the months of January and February: Portraits. blackmageheart described it this way: "As the topic title suggests, this challenge is about portraits. I'm sure most people know what a portrait is, but just in case this is what we want: a crafted picture of a character's face/head (you can include neck and shoulders if you wish)."
This is kind of embarrassing, but the winner was, well, me. Here is my portrait of Snorlax that won:
There were three entries that tied for second place. In no particular order, we have carand88's gorgeous Midna portrait:
We also had an adorable Sailor Moon piece, by blackberrybear,  win second place.
Our third second place winner was a portrait of Weedle, again by, er, me.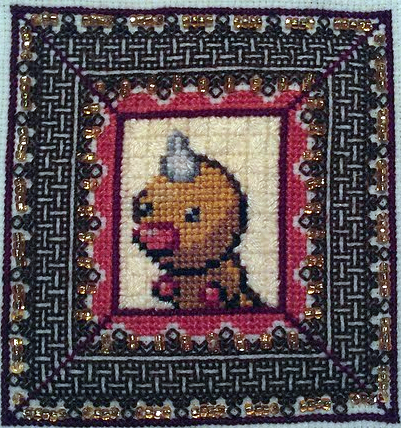 I have to say that every single project that was submitted was fantastic. I will showcase more of them on this blog, because they deserve it.
Our next challenges will involve stitch-a-longs. I hear that blackmageheart has some interesting surprises in store for us!
via[TheSpriteStitchForum] Related Posts: