BMH: Hi Lord Libidan! Can you tell us a little about what you do?
LL: I do both video game and contemporary cross stitch, and I try to push the boundaries a bit. I also blog for Sprite Stitch, and Mr X Stitch.
BMH: What got you into cross stitch?
LL: I was bored. Found an old cross stitch pattern around the house, thought it'd only take me a few hours, and I was hooked from there. Despite the fact it took me most of the summer holidays.
BMH: Why do you like video game stitching? And contemporary?
LL: I think its pretty hard to have traditional video game stitching, but to be honest, I just love video games. There is so much you can draw from, and it has such a wide appeal. I'm starting to make a move into very contemporary stitches, such as my transformers, and a few others I'm currently planning, but I like to connect the two together, so everything I do is kinda video game related.
BMH: You're pretty well known for being quite inventive when it comes to your stitching patterns, like your transforming Transformers! How do you come up with your ideas?
LL: I honestly can't tell you. I've always looked at things a little different, and plastic canvas looks like it had so much potential. Then I sorta went over board. Most of my projects are ideas that slowly simmer, and new ideas branch off.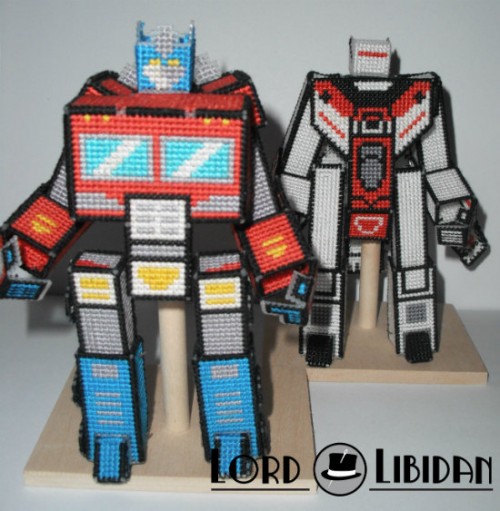 BMH: Looking at your blog, you seem to be a bit of a Portal and Pokemon fan. Are they particular sources of inspiration?
LL: I go through waves of pattern making a lot. I'm currently going into a sonic one I think, so expect some awesome stitches to that end soon. But no, not really. I think there is a lot to draw from when it comes to pokemon and portal, they're loved by pretty much everyone, and so its easier to find stuff about them.
I guess I just stitch my favourite game or games at the time. Most of my ideas start with a principle, then I find a game to fit in.
BMH: Anything else that inspires your work?
LL: As I said, I have ideas of what would be cool way before I ever pick out what it will be a pattern of, and I guess a lot of my inspiration comes from stuff around me. My 3D pokemon stitch came about when I found an old pair of red/blue glasses around the house. And I'm currently planning something that came from a piece of art I saw in a gallery window. Although saying that, I am always thinking of stuff, and I do visit galleries, museums and art shops a lot…


BMH: You've been called a rising star a few times, and you've been featured in magazines and exhibitions, do you have a long term plan to do something with your art?
LL: Not really. I cross stitch, and put it online where other people can see it. I think I've been lucky enough to have a few people interested in my work. I think everyone has the ability to do those things. I would quite like it if selling my patterns could cover my stitching costs, but I think that will come with time.
BMH: What are you working on at the minute? Anything exciting?
LL: A few things are in the works, but I'm particularly excited about a few projects that play with perspective. I'm not sure one of them is even humanly possible, but I'm exited for it all the same…
BMH: Art or craft?
LL: Ooo, very hard question. Up until recently I would've said craft, but the more I look at art the more I see art styles in my work. Actually, I also see a lot of design styles too. I guess the jury is still out on that one.
BMH: Anything else you want to add?
LL: I have a website, and I'm also on most social media sites; twitter, deviantART & flickr. You can also buy all my patterns on my etsy store, and if you can't find the one you're looking for, just send me a message. 😀
Related Posts: