LL: Hi Ammnra! Can you tell us a little about what you do?
A: By day, I'm an engineer in the medical industry, but by night (and most weekends) I make costumes, toys, replica props, jewelery and pretty much any other random goal that has caught my attention. I've spent my childhood devoted to hobby stores and arts n' crafts but I have recently graduated to making costumes and full size replicas. I enjoy difficult, detailed projects that expand my "mental tool box" with every material, process, trick, and tool I can get my grubby hands on: Everything from pipe cleaners to (most recently) 3D printers.
LL: I think your probably best known for your 3D printing. You don't see many people dabbling in 3D printing, how did you get into it?
A: I was first introduced to 3D printing when my job got a 3D printer for our R&D division. To effectively use it for R&D, we needed to  understand its limitations. That way if something we made didn't work we'd know if the problem was with the design or with the shortcomings of the machine.
I was tasked to figure out the new machine's limitations.  Which was conveniently an open invitation to throw as many weird designs as I could at the magic make-anything machine. Since traditional parts and simple assemblies weren't going to get the job done, I did what any geek would do; I designed Arc Reactors, Light Saber parts, Portal Cores, and anything else I could think of…. you know…. purely for research purposes. Eventually I characterized the 3D printer and worked out a deal with my job so I could keep using my new favorite tool for personal projects.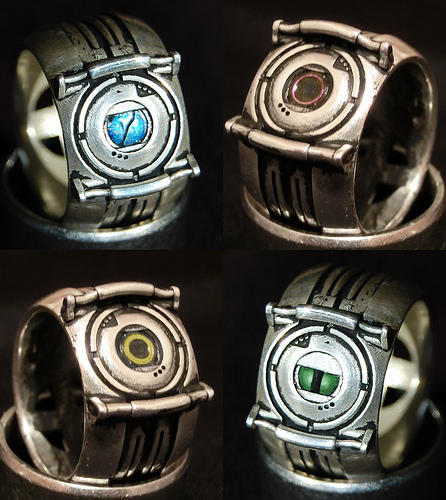 LL: Your miniature portal cores created quite a stir in the geek world. I've seen plenty of larger replicas, why go smaller? A challenge to see if you could do it?
A: When I decided to make the cores, it never really occurred to me to go full size. Having four separate ~10lbs beach-ball sized props rollin' around my house seemed slightly excessive…  even for a man with a full sized mannequin dressed as Garrus in his spare bedroom.
The challenge of seeing how small I could make the cores and still have all the lights, batteries and degrees of freedom I wanted definitely made the project more interesting. Another big reason I decided to go hand-held was cost. Since 3D printing is volume based, large objects eat through material and budget painfully fast. I guess key-chain sized was the best compromise I could find between cost, challenge, and shelf space.
LL: I think everyone would be dying to know about your rings. Why convert such iconic games and characters into rings? How do you get the ideas for them?
A: I actually saw a ring based on the Portal Turret on Shapeways designed by "sbruins", and I liked the idea of wearing your "geek cred" in other ways than the traditional t-shirts, bags and hoodies.  Since I've worn one ring or another for most of my life and I had just recently finished designing/modeling my brother's wedding rings, the idea really grabbed me. I decided to design a piece of jewelry representing each of my more recent projects/props or hobbies.  I'm still noodlin' on Mass Effect and a few others, but I kinda went nuts with the idea and modeled all the rings in one epically caffeine fueled weekend.
LL: A lot of your rings are based on modern games. Why modern games, and have you ever thought about using retro games?
A: That's a really cool idea. At the time, I was so focused on making jewelry based "memorials" to my old projects, the thought never really crossed my mind. I think the most retro game I've based a ring design on was DDR (an old passion of mine). Perhaps I'll have to add a few of my favorite old school games to the noodlin' list.
LL: I also understand you do commissions? How long does it take to make something from scratch then?
A: Simple, static props take around 2-4 weeks to design, make and detail. If I need 3D printed parts in special materials it takes around 6-8 weeks. If someone wants a more complicated project (like full costumes, props with internal mechanisms or complicated sound/lighting systems) it would take 2-4 months to finish.
LL: Do you have any new rings or projects in the works?
A: I'm mentally absorbed in the Assassin's Creed universe currently, so I'm just finishing up tweaks and improvements on my Hidden Blade and Hidden SMG props and nearing completion on a prototype of a sheet metal based Hook Blade design.


LL: So let's talk about your cosplay. Unlike a lot of cosplayers you tend to take a slightly different route. Your Assassin's Creed outfit was a modern take on the very traditional assassin. What makes you think outside the box?
A: There are a lot of really fantastic, game-accurate Assassin's Creed costumes out there. Having that many examples of successful ways to make a project takes a little of the fun out of it for me. Using liberal doses of artistic license, or picking characters that are rarely cosplayed just makes things a bit more interesting in my opinion. I had a really fun time mixing and matching details from all over the AC universe into my costume. Modernizing it also gave me the chance to create original prop designs  by inventing and re-inventing a bunch of AC tools and weapons.
LL: Your Apple of Eden. Wow. One of the best replicas I've ever seen. We had another prop maker a few weeks ago, but you've once again used your 3D printing skills, something not many prop makers do. Why take this route?
A: I actually made the AOE 3 different ways. The first was a  full 5.5"Dia version made of carved foam. I scraped that one because I hadn't quite figured out the miss-mash of lines on the back side of the Apple. The second version was a big o' amber-lighted bouncy ball I dremeld the lines into. I liked the idea of a piece of supposedly alien tech you could bounce off the walls. It turned out pretty good, but in the end, iyou could see it was hand made. For the prop to match the feeling of the one in the game, I decided it had to look like it came from "those who came before" not a dude with good hand tool skills.
I ended up going the 3D printed route to give it that "made with  advanced tech" look. The Apple turned out to be a tricky project and certainly it's one of the most tricky things I've ever modeled. But I'm happy with how it finally turned out.
LL: Where can others find your work in the future, and do you have an online store? (This is where you can put links to everything)
A: The best place to find my newest project stuff is at my Flickr page. I usually include links to my videos, costume write-ups, and new designs for my Shapeways store in the picture descriptions.
I'd like to say thanks to Lord Libidan and SpriteStitch for taking the time to talk to me about my favorite subject and thanks to everyone  who took the time read this …. good luck on all your projects.
Related Posts: