this was requested a long time ago as an addition to the Mario Across the NES Ages pattern post…I forgot to put it in at the time. so here it is…better late than never I suppose.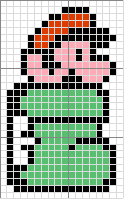 310, 5200, 912, 3824 or 3708 (depends on your preference / screenshot)
but, enough mario already…I must say I'm getting a little sick of him (blasphemy, I know) keep submitting your work! I love seeing other peoples cross stitches!
Related Posts: