LL: Hi Gatchacaz! Can you tell us a little about the black work pieces you do?
G: Well, I first became a fan of blackwork about two or three years ago.  Blackwork is a traditional counted-thread technique, but I think it tends to get overlooked because a lot of the designs and fill patterns etc can be a little old-fashioned. I decided I wanted to give the technique a modern twist.
LL: It's rare to see blackwork now-a-days, as it's mostly consigned to black thread on white aida. However you've brought it right to the forefront, how do you feel about being part of that?
G: I think that's pretty cool.  There's a lot of people on sprite stitch, deviantART and other blog sites out there doing video games sprites (I'm guilty of that myself), but I like to be different which is why I started experimenting with blackwork to see what worked and what didn't.  The first few designs I did in blackwork were very well received so it encouraged me to do more!
LL: Would you like to see more blackwork pieces in the future from others? Where would they start if they wanted to?
G: Absolutely!  There are plenty of places to look on the internet and there are websites that are very useful for beginners.  I started stitching small designs before I challenged larger projects and it's the same with designing – start small to build up your confidence!  If readers want to have a go, I have a selection of blackwork patterns on my own blog which are idea for beginners!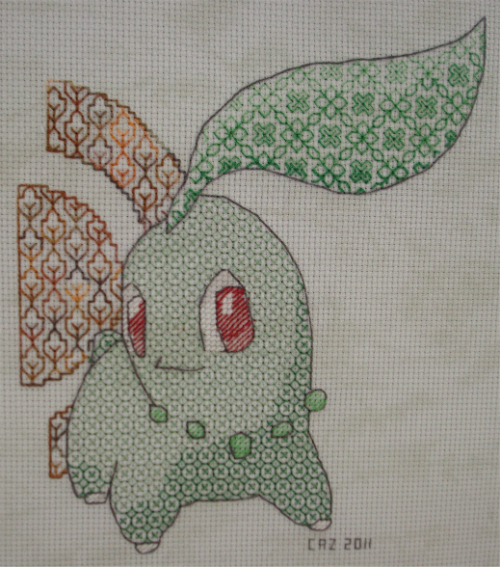 LL: I hear you're also compiling blackwork stitches for others to learn from?
G: Yes.  When I started designing myself, I was always trawling through books and the internet trying to find suitable fill patterns.  I started putting together a list of all the fill patterns I'd amassed.  It makes it easier when designing to have a sheet with all the patterns in one place rather than several books stacked on the side of my desk.  I've got quite a few sheets now so I should try and get these up on my blog soon!
LL: How long does it take for you to get from idea to finished pattern, and then from pattern to finished piece?
G: Well, it depends what mood I'm in.  Some designs come together very quickly, whereas others can takes weeks before I'm happy with the pattern.  With the stitching side of things, I can usually do a small piece in under a week.  Larger pieces can take up to a month (or longer).
LL: You don't just dabble in blackwork though, you're also known for your cross stitch. In the past you've also used unusual threads, do you try to push boundaries a bit?
G: I try to.  I'm a huge fan of DMC's Colour Variations and Light Effect threads.  I think they add flair and a unique touch to a completed piece.  Some colours obviously work better than others, but the results can be very impressive.  I especially like working my blackwork pieces in Colour Variations, just to be different!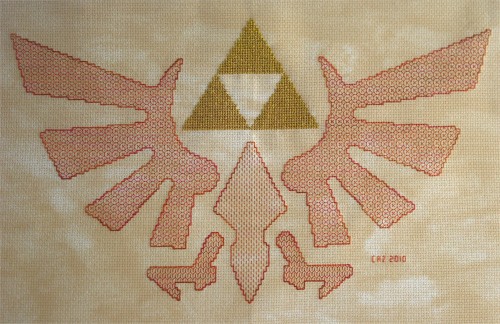 LL: You've also combined cross stitch and blackwork before, such as your Project Lugia piece. Where do you get the inspiration for something like that?
G: Hahaha…by accident!  Actually, the pattern didn't start out like that.  I had initially planned to stitch the background in cross-stitch using light effects, but I felt that it might overpower the design, not to mention annoy me somewhat covering a large area in metallic thread!  I decided to take the design back to the drawing board and that's when I decided to do it in blackwork – I think it worked out really well in the end.
LL: I've also learnt that you've recently picked up crochet? How are you finding that? Planning on giving it your own brand of awesome?
G: I've only recently got into crochet and I'm still learning the basics.  I've been working on small projects following what others have done in the hope that it will help me understand how to make my own patterns.  So, hopefully yes, I'll be able to give it my "own brand of awesome" at some point in the future!
LL: What's the next big piece you're planning then? And what is it in; blackwork, cross stitch, crochet or another mix?
G: I don't have any new large projects on the drawing board at the moment, but hopefully next month (thread stocks permitting), I shall be able to start working on "Project Ho-oh" which is more or less the same style as "Project Lugia" with a mix of cross-stitch and blackwork.
LL: Where can others find your work in the future, and do you have an online store?
G: I set up my blog in 2009, and this is where you can find all my stitchy news, work in progress, pattern downloads and other useful links.  It also has a Facebook page in support.  All my work is posted on my deviantART account.  I've also joined Ravelry for my crochet.
I don't have an online store as of yet, but I'm hoping to start going to craft fairs and sell stuff so I'm thinking about opening an Etsy account later in the year.
LL: And finally, can we be expecting to see you on sprite stitch any time soon?
G: Erm…maybe 🙂

Related Posts: