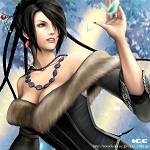 LL: Hey BlackMageheart! Can you tell us a little about what you do?
BMH: I love to do (and try!) all kinds of crafts but mostly what I do is cross stitching. I also draw and paint and I crochet a little too. Recently I've been getting into jewellery making and having a lot of fun with polymer clay. Most of my crafting works are based on video games but I have been known to do a bit of the more traditional stuff too!
LL: Sounds like you've done a lot, how did you get into cross stitch?
BMH: I cross stitched when I was a little girl but gave it up (probably for video games, knowing me). About seven or eight years ago I was looking for something rewarding to do with my spare time, and found an old sampler kit in one of my cupboards. Pretty soon after that I realised that anything with pixels could be done as cross stitch, and quickly became addicted!
LL: Can I ask where the name came from? Are you eluding to final fantasy's mage?
BMH: Certainly! Although I like mages in general, Final Fantasy's Black Mages are my favourite. There's something about them that I find appealing. It may be the hat. 😀
I used to play Final Fantasy XI online and in the beginning I was unsure about the role I wanted to take in the game. A friend told me I was "most definitely a Black Mage at heart", so I opted for that job. So glad I did, it was a lot of fun. And that's where my name comes from!
LL: Is final fantasy a particularly favourite series? I noticed a lot of your pieces relate to it.
BMH: Most definitely! I've always been a fan of RPG type games and the Final Fantasy series is up there in my favourites list. I really enjoy stitching pieces from my favourite games – I think it's a great way to show my appreciation for them, as well as finding new ways to represent them.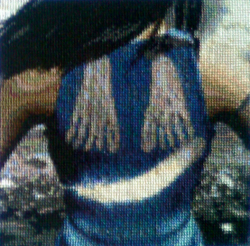 LL: How do you come up with ideas for projects? A lot of your stuff is wide ranging, do somethings inspire you more?
BMH: Some things do inspire me more – my favourite moments in my most-loved games. My friends and family also give me ideas through their favourite games and things. I do enjoy trying to come up with new and different pieces – such as things that haven't been cross stitched before, something for a Sprite Stitch challenge or gifts for people.
Quite often I will get an idea while doing something completely unrelated and think "I could do X" or "Y would look cool stitched up", that sort of thing. Sometimes I will just see an image or a sprite and try it just to see how it turns out!
LL: You're known in the forums as quite a prolific cross stitcher. How long is your list of stuff to stitch, or do you normally only have one or two projects planned at one time?
BMH: I usually have two or three things on the go at one time, and more planned. There's also always a small pile of unfinished projects lurking in my craft space, too. The to-do list is fairly long, bordering on endless, as there's always something to be stitched!
LL: What projects do you currently have in the works then? Any you are particularly excited by?
BMH: I'm currently working on the first of my squares (featuring a scene from Ecco II) for the 2012 Sprite Stitch charity project. I'm planning a few more squares for that project and have already started making the patterns for those!
I'm also working on some Streets of Rage and Golden Axe sprites (really into retro brawlers right now!) as well as some other small icon type pieces. And in the pipeline I have a large Phantasy Star piece that I'm really excited about starting. So, I'm definitely going to be very busy this year!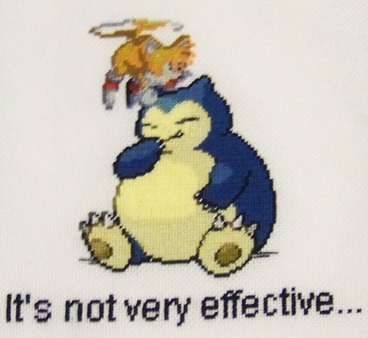 LL: Echo the dolphin… First game I ever owned. Good times…
Why do you think there has been such a resurgence in cross stitch recently? And how do you think video games have impacted on that?
BMH: People are always on the lookout for hobbies, and recently that has been stuff like cross stitch. Maybe because it's so rewarding to make something yourself! It's so easy to learn and doesn't require tons of artistic talent, which I think often puts people off arty type activities. And with the internet there's a wealth of patterns and guides on how to do things.
Video games and cross stitch go extremely well together, because it's basically a physical form of pixel art. I think it was a natural progression for the craft, as gaming is a large part of modern culture and I believe that arts and crafts often reflect the times!
LL: Where can we find you in the future, apart from the Sprite Stitch Forums? And is there anything else you want to add?
BMH: In the future, I shall be in my spaceship, orbiting the moon while plotting and possibly laughing maniacally.
Until then, I can be found here at Sprite Stitch, but also at my WordPress blog, deviantART, Etsy, Facebook, Twitter…basically the internet. It's safer for everyone that way! (Trust me, it is.)
Google me, or something. Modern technology, eh? 😀

Related Posts: