LL: Hi Bill Doran! Can you tell us a little about what you do?
BD: In a nutshell, I build replica props. I started doing costuming for conventions a couple of years ago with my friends and it snowballed from there. Before I knew it, I was at Harbor Freight and Tap plastics almost weekly, feeding my hobby! Now I build pieces for myself, my friends and whoever wants to send me their hard earned cash! I'll make anything (within reason, I can make a flux capacitor look-alike, but sadly, I can't make it travel through time) from video games, TV shows, movies, comic books or even original pieces. Two of my most recent projects were the N7 Eagle Pistol from the upcoming Mass Effect 3 and Mehrunes' Razor from The Elder Scrolls: Skyrim.
LL: You've moved over the last few projects from steam punk to video games. Why is this? Simply more variation or are they mainly commissions?
BD: Every fall in Seattle, we have a steam punk convention called SteamCon. It is a fantastic social event and an opportunity for me to create some original work. After this year's event in November, I went back to video game props, because I am a huge video game nerd! Also, most of the commissions I've been getting lately are video game inspired. I am 100% OK with this.
LL: Unlike some of your contemporaries you tend to stick with a fantasy theme. Is it simply a case of swords are better than guns?
BD: The theme isn't super important to me. The thing that draws me in are those props that are the "hero" weapons. Those romantic pieces like a gunslinger's revolver, or a knight's sword are my favorite. When I pick a piece to build for myself, I usually just end up doing something that I am obsessing over at the time.
LL: You also seem fairly sparing with electronics. Often props get lit up like a christmas tree. Do you hold realism higher than gimmicks?
BD: I don't have a lot of experience with electronics, hence my reluctance to use them. I am pretty good with simple circuits, and am starting to branch out and learn more, but none of that has made it into a final piece yet. I know that
gimmicks turn heads, but I don't want to do them just for the gimmicks' sake. That being said, I'm pretty proud of the lighting solution I used on my Warglaive of Azzinoth.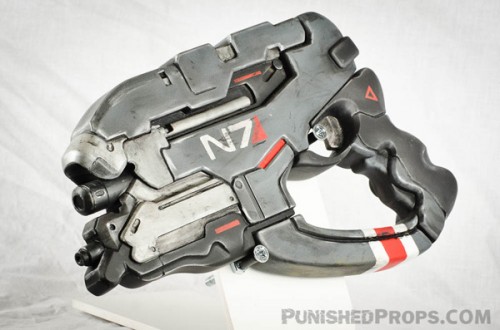 LL: You've recently sold your Mass Effect N7 Pistol at child's play 2011, something we also gave to. What made you take the leap from personal and commission pieces to charity auctions? And how much did it sell for in the end?
BD: I've been a supporter of the Child's Play Charity for a long time, but could never afford to contribute very much. I started the N7 pistol project for myself, but when I realised that it would be done in time for the auction, I decided to make a mould of it so that I could cast and paint a copy for the auction. The gun ended up bringing in a cool $500 for the kids. I was so happy that I could use my skills to help contribute way more money to the cause than if I were to just throw money at it.
LL: Can you give us a simple run down of how to make your props, from idea to finished product?
BD: I usually get an idea for a costume for a convention (like PAX or Dragon*Con). Lately I've been doing commissions, so the concept is whatever the client wants. Once I know what I'll be building I go about collecting reference images (Google image search is great for this, but sometimes I need to take in game or movie screen shots). I use the references to creat a 2D, vector layout of all the pieces (like this). From there I decide which materials I want to make the pieces out of. I work mainly with PVC plastic and MDF wood.
The build process varies depending on what I'm making. I usually do a lot of cutting on my scroll saw and lots of sanding. I put detailed rundows of each build on my website if you'd like to see how each of them is made. If I'm going to make more than one copy of the piece, I'll make a silicone mold and cast the pieces in polyurethane plastic.
The final pieces are then painted and weathered. I like to use an airbrush for most of the painting.
LL: It's a fairly drawn out process then. How long does each project take on average?
BD: Mehrunes' Razor took me a couple of weeks, working on it 2-4 hours a day. The good news is that once it was finished and I made a mold of it, I can make copies in just a couple of days.

LL: That's quite a while. Are you ever daunted by the size of your projects then? Your Hawke set is huge. Do you ever think
BD: Yes, I've been known to bite off more than I can chew. The Hawke costume is a great example. I gave myself a month to finish it for PAX and Dragon*Con 2011 and I should have taken 2 months. The week before PAX I was getting maybe 4 hours of sleep a night and I rushed some of the parts. I didn't even get the costume completely done by the time of the convention. After PAX, I had another week before Dragon*Con, so I was able to get everything on the costume buttoned up (again, at the cost of sleep). The lesson? Figure out how long you think a project will take and then double it.
LL: So you're committed then? You've only been making replicas since 2009, and gained quite a notoriety. Is this more than a hobby for you, or are you simply mad about replicas?
BD: It started as a hobby, making costumes for PAX and Emerald City Comic Con, but in the last year it has become a real passion for me. I am totally committed. If I don't spend every day doing this for the next 30 years, I will be a sad panda.
LL: As being committed goes, that's pretty high up there… Can we get a scoop as to what your next project might be?
BD: Sure! I'm finishing up a Draenai shaman totem from World of Warcraft right now. Up next I'll be making the engineer's pistol and shotgun from Team Fortress 2.
LL: Where can others find your work in the future, do you have an online store, and is there anything else you want to add? (This is where you can put links to everything)
BD: First I'd like to thank you for taking the time to chat with me! This has been really fantastic!
You can see all of my finished work with photos and descriptions of each build at my website.
I usually post daily progress photos on my facebook page.
If you're on twitter you can follow me @chinbeard
Lastly, if you have a replica prop that you would like to commission me to make, don't hesitate to send me an email at punished props@gmail.com

Related Posts: