PART 4 of the TWEWY Noise Project!
Same deal as before - all the patterns in one PDF.
dimensions calculated using 14 count fabric.
I cannot guarantee complete color matches - when they looked really off I edited them but, like always, I'd suggest looking at the threads before you use them.
Be aware that some patterns only use a color for as little as 1 stitch, so if you are on a budget consider consolidating some of the lesser used colors.
58

59
60

90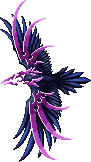 1st set -
TWEWY Noise - Pigs (no.67-75)
2nd Set -
TWEWY Noise - Minks (no.20-23)
3rd Set -
TWEWY Noise - Bats (no. 18-19 & 88-89)
All sprites from
http://twewy.wikia.com/wiki/Noise_List
All patterns graphed in PCStitch. PAT files available on request.
Number 90, Cornix Canor, requested by LilliumRyn.