sgoheen06 laughs in the face of the so called 'epic mario cross stitch' that I posted earlier…this monster of a pattern weighs in at approxiametly 5 feet by 2 feet (781 stitches across).

I'm not too sure that I like the mixing of sprites (mushrooms, mario, luigi, princess, etc) but this is still one cross stitch I'd love to have up on my wall. Here is the progress so far, hopefully she keeps us posted.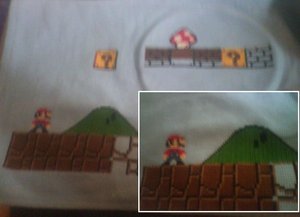 this one seems to be the biggest undertaking yet…can anyone beat it?
Related Posts: