November was an amazing month on the Sprite Stitch forums! In honor of Sprite Stitch's 5th anniversary, this month has been crammed full of mini challenges and giveaways. I will quote one of our moderators, Blackmageheart: "Five years ago, a weblog was started to share with the world one person's interest in stitching and crafting sprites and video game related items. Today that blog is one of, if not the foremost video game crafting sites on the internet, complete with a thriving crafty forum community! Since I started following the blog, and then joining the forums, I can't believe how much Sprite Stitch has grown and changed!"
So the first mini challenge was to create something for Sprite Stitch's birthday. The winner was LinkIsMyHomeboy. She made this:
The second mini challenge was to "pixelate yourself." That is, make yourself in sprite form. Digital and stitched pieces would both be accepted. The winner was La Ptite Bete with this: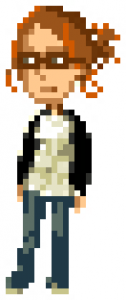 The third mini challenge was to create a new Facebook cover for Sprite Stitch's Facebook page. The winner was funkymonkey's design: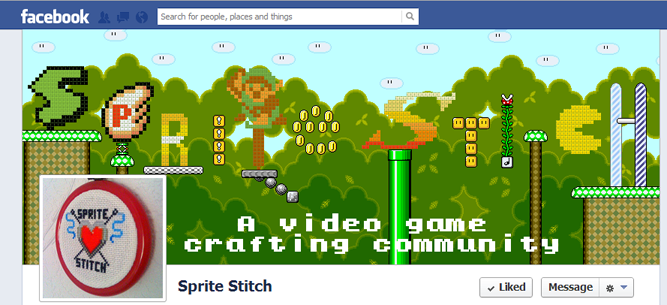 The fourth mini challenge was to create more banner designs for the blog. The winner is La Ptite Bete's Prince of Persia banner:

The larger two month challenge ended this month as well. It's called the "Glow in the Dark" challenge because some element of the project had to glow. Many entries used glowing floss or blending filament. The winner, by a landslide,  is TheMainlander with this awesome Batman idea:
The second Child's Play charity quilt auction ended and Sprite Stitch members were able to raise $202.50!
We also had some amazing giveaways in November. If you haven't joined the forums yet, come on over. It's tons of fun!
The current challenge for December is Villains! To quote blackmageheart again:
December, my least favourite month of the year. I get moody and grumpy, and I think there's no better way to celebrate a season of good cheer than having some of your favourite villains cook up some evil scheme to wreck it!
So, what I'm asking from you this month is pretty simple – show me your favourite villains! Christmas theme optional. (And not preferred! /humbug) As usual all crafts welcome, multiple entries welcome too. Challenge ends on 31st December and I'm aware that a lot of you will be doing Christmas stuff so keep it simple and/or small 

Related Posts: