LL: Hi Starrley! Can you tell us what your craft is?
S: I enjoy cross stitch, embroidery, perler beads, and quilting. In fact, if something is a craft, there's a really good chance that I've dabbled in it at some point.
LL: Cross stitch, embroidery, perler beads, and quilting, that's quite a mix. Would you say you just like being crafty then?
S: Absolutely. I've always said that I have the goal of being able to do every craft at the hobby store.
LL: How did you learn to do all these crafts? Most people tend to stick to only one or two craft types.
S: I just pick them up as I go. A few years ago I decided to learn to knit, just so I could know what it's like. I got some knitting books from the library, and kept trying until I figured it out. Most of the crafts I've done have been like that. My older sister is crafty too, and amazingly good at it, so any time I have a question I can generally go to her. She's also given me a few snazzy supplies over the years.
LL: I hear you've recently been into embroidery more. Why are you currently dabbling in that over cross stitch?
S: I still cross stitch as well, and I always will, but embroidery is nice too because it's like drawing and painting with thread. It's very organic. Part of me loves the uniformity of cross stitch, and a different part of me loves the freedom that you get with embroidery. The bottom line, though, is that if it involves needlework, I'm happy!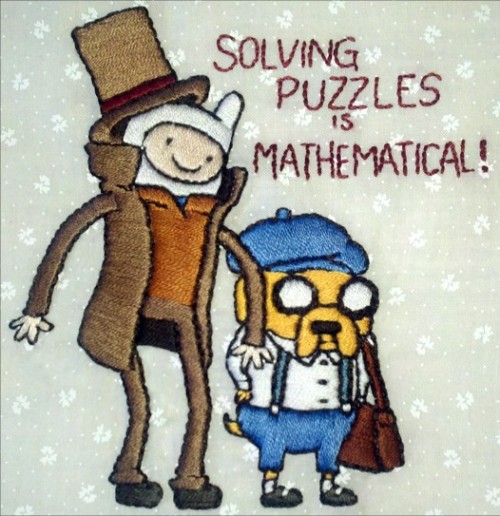 LL: A lot of what you make has some purpose. Most cross stitchers tend to make art then just store it or sell it. how ever it looks like you wear yours with pride, in form of necklaces, phone covers, etc.
S: I love looking at pretty, stitched things. It's very happy-making. I basically surround myself with it. You should see my bedroom walls!
LL: A lot of what you do is fairly cutesy. Do you always confide in (what do you mean?) the cutest characters of games?
S: I have always, always adored cute things. I was about 5 when my Hello Kitty obsession began, and it grew from there. I love all the cute games that are out now. I was thrilled when Little Big Planet came out.
LL: Fairly few of your projects are video game related. It appears to be more of a recent thing for you. Why video games, why not
S: Well, I found Sprite Stitch a few years ago, and it got me really excited for video game crafts. I did a big Princess Peach, some Pokemon, and some Mario perler sprites. But I kind of have craft ADD. There are so many things that I want to make that I kind of jump around all over the place. Recently, I got on an Adventure Time kick. But I still go back to video games. About a month ago, I made my brother a Chrono Trigger keychain. And for the current challenge, I submitted a Professor Layton/Adventure Time piece. Also, every few weeks I just have to stitch myself a Pokemon!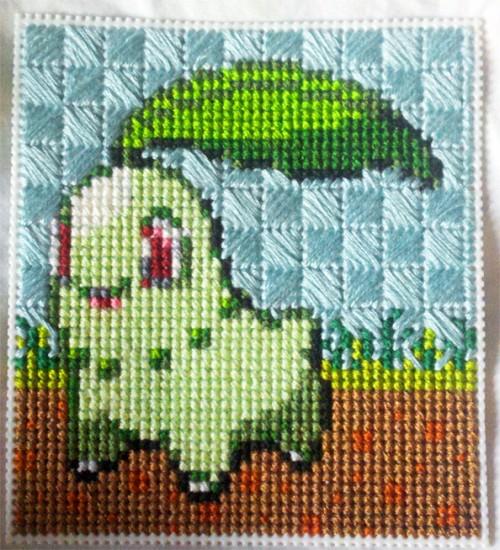 LL: Pixel Stitches obsession of Earthbound is fairly well known, however you are quite fond yourself. Why do you think Earthbound is a must play game for many cross stitchers?
S: It's just so darn cute, and the pixelated nature of it lends well to cross stitching. Most of us have fond memories of playing that game on SNES. In the most recent Sprite Stitch swap, I was actually assigned Pixel Stitches (aka "Bamiyan.") I just had to do an Earthbound piece, but I wanted to do something that's never been stitched before. I found a cute scene from the beginning, when Ness is in bed. There are so many lovely blues. I miss that stitching, but I know that Pixel Stitches loves it and has it framed in her kitchen.
LL: What are you currently working on? Anything that you're particularly excited by?
S: I am about to start stitching the first pattern that I've made completely from scratch, pixel by pixel. I've converted many pictures into patterns in the past, but this is the first one that's entirely original. I'm excited, and nervous!
LL: I understand you've recently opened a store. What made you take this leap into selling?
S: A lovely girl on Deviant Art requested to buy one of my Pokemon stitchings. I went ahead and sold it to her, and she was thrilled. It made me think that maybe other people would be interested in the things I make. It's what inspired me to start making patterns from scratch. Once I've stitched the stitched the pattern I just made, I'll be posting it for sale in my Etsy shop. I know it's a long way off, but it would be really nice if one day I could help support my family with a little steady income.
LL: Anything else you want to add? (This is where you can put links to website, store, etc)
S: You can reach me at my website, deviant art or my Etsy shop.
There's not much in it now, but soon I will have many things for sale.
I've also starter a group on DeviantART. It's called the Embroidery Social Club.

Related Posts: