LL: Hi riotpatch! Can you tell us what craft you do?
RP: My main craft is cross stitch but I also work with Perler beads and punch needle.
LL: Looking over your past stitches a recurring theme is definitely femme fatales. Was this on purpose, trying to show off girl power, or was it totally coincidental?
RP: I won't say it's completely deliberate but I do tend to be drawn to strong female characters because they can be a rarity in male dominated industries such as video games and comic books.
LL: You also have a lot of Donkey Kong and Baby Mario pieces too, are those your favourite games?
RP: My first console was the Super Nintendo and Donkey Kong Country and Yoshi's Island were my favorite games. My favourite games now are Zelda, Final Fantasy, and Assassin's Creed.
LL: Having participated in Sprite Stitch swaps in the past, once with myself, do you say you enjoy stitching for other people, or do you stitch for yourself?
RP: I find myself stitching for others more often than for myself. Making things for others is definitely more exciting.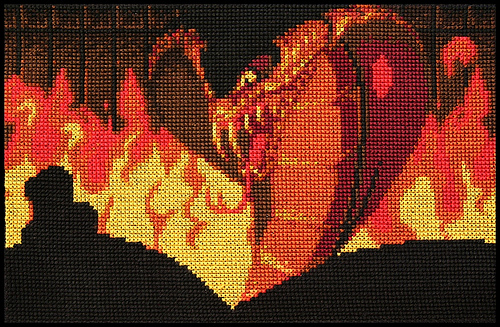 LL: What are you currently working on? Anything big happening in the future?
RP: I am currently stitching Abysswolf's Pokemon Trainer. In the future I do want to work on something gigantic and Assassin's Creed related. It probably won't be pixel art but based on concept art from the game. Probably something that incorporates both Altair and Ezio. I have to psyche myself up to doing something so large first. I'm happy doing pixel art so it will be stepping outside my comfort zone.
LL: How do you decide on what your next piece is going to be? And how long does it take before your idea is finally made into a pattern?
RP: I have a lot of images saved in a folder that I collect from just browsing pixel art and sprite sites. Spriter's Resource is my go to place for video game sprites. I usually go by feeling and choose to make whatever is calling to me. Since I stick to sprites, it takes little time to make patterns but I will sometimes play around with the colours generated. I do go on pattern-making sprees sometimes so I also have folders of patterns waited to be stitched. It's a pretty quick process for me.


LL: I also see you follow a LOT of blogs. Do you do this for inspiration, or do you have a list longer than your arm of things to stitch?
RP: I usually follow people back is one reason for my long list. I also get inspiration, not from the projects itself but the progress. A lot of others get me motivated to stitch myself. I do have a large list of projects I'd like to attempt someday but they are usually ones I've found myself.
LL: You often post images of your off cuts on your blog, can you tell us a little more about this TUSAL thing?
RP: Basically it's an easy to keep up with stitch-along in which a large number of blogs participate. It stands for Totally Useless Stitch-A-Long. I started mine out of curiosity to see how many thread ends I produce in a year. And rather than throwing them away, they become a sort of project in and of themselves. I plan to have a jar for every year indefinitely. TUSAL progress is usually updated on or around every new moon.
LL: And finally, where can people find your work in future, and is there anything else you want to add?
RP: All of my work will be posted to my blog, A Riot Patch of Pixels. I would like to thank the Sprite Stitch community for being so supportive and a source of inspiration to me. Cheers!

Related Posts: