This has been such a fun challenge and there's been some truly awesome entries! I know it's hard, but we're going to have to choose a winner! It's been hard to separate some of the deities so some of them will be entered as groups and some will be split up (if it's necessary!)
Here are the entries:
1. The Muses (Idesta, Daria, Clymene, Mneme, Cthonia)
-
m4pl3g1rl
2. Goddess of Love
-
Knittenkitten
3. God of War
-
Knittenkitten
4. Three Sisters of Frustration (Vestera, Hadorite, Altena)
-
LinkIsMyHomeboy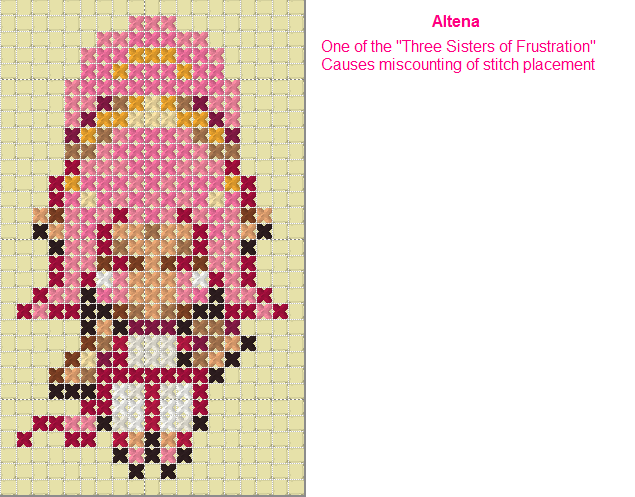 5. Arceus, Patron Saint of Epic Pokémon Patterns
-
Ally
6. The Buddha of Stitching Zen
-
Servotron
7. Angel of Productivity and Devil of Procrastination
-
m4pl3g1rl
8. The Trickster
-
arkani
9. Evil Backwork Knots Demon
-
La Ptite Bete
10. Sprite Stitch Herald
-
kuja.girl
11. Navi, Deity of Choices
-
SofaraStarfyre
12. Three Goddesses of Stitching
-
CrazyCucco11
13. Guardian of the Forums
-
blackmageheart
14. Fu'sake
-
Eliste
15. Valzreal, Lord of Judgement
-
blackmageheart
16. Joann Michaels, Goddess of Craft Supply Stores
-
Lunariah
Really impressed with everyone's creativity in this challenge!
OK, I'm giving everyone the chance to vote for their top three entries - yes, three! Poll will run for 7 days at which point I will stuff a star into someone's profile! Good luck all and VOTE VOTE VOTE!