So after seeing the awesome 1-up mushroom magnet (and copying it!) I decided to make another set of magnets. I set my sights on the villains from Mega Man 2.
I made the patterns from sprites provided by The Shyguy Kingdom. I did my best to match the colors appropriately, and when I couldn't find them suitably from the RGB values, I used the old eyeball test in store with a printed image. I didn't do enough of a job to pick the skin tone, but I don't think it's a gamebreaker. Also, it was difficult to select the right sprite, as anything with "inside singles" around the edge are difficult to make a running stitch around. In those places, I used a "placeholder stitch" in the same color of the running stitch to make it look better, and I think it worked very well. Also, closed loops were out because I do not have the scissor skills to make that happen, though I may get bold and try it with an X-acto eventually. If anyone would like these sprites or similar, let me know!
As always, my edges aren't perfect but they're good enough, and as I get more practice I hope they improve. I have been using the method of matching a blank sheet of plastic to the back, so I am not gluing magnets to floss. I use Amazing Goop as my glue and it works well.
It's Crash Man - this is the first I did, and you can see that I was squaring the edges, rather than cutting at a diagonal.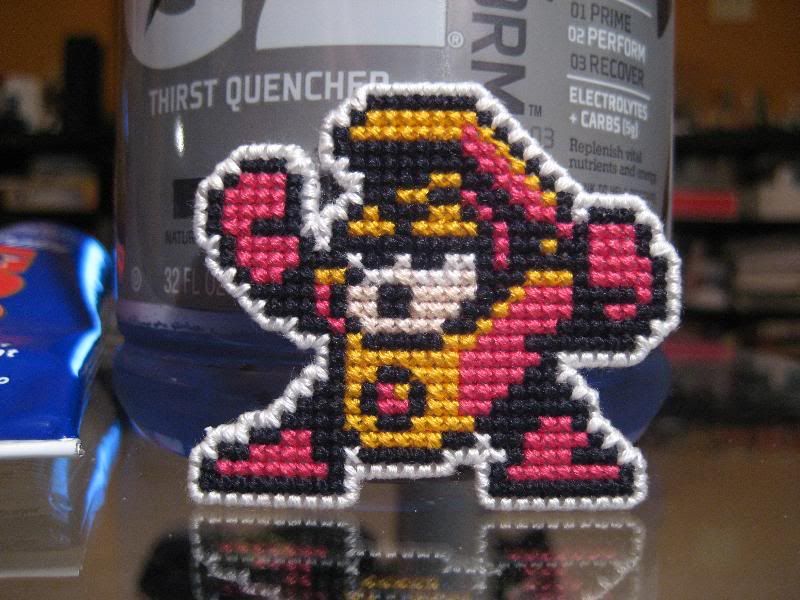 Heat Man was next - I cut his outline on a diagonal and I think it looks much better.
Bubble Man came third - I am pleased with how he turned out. I was a bit nervous about the green, as the color KG Chart gave me didn't seem right, so I matched it by eye in the store, and I think I got the right shade.
Quick Man - the fastest one so far, both because he required the fewest stitches and because I tried a new method for cutting out the backing piece that seemed to simplify things.
Wood Man
Flash Man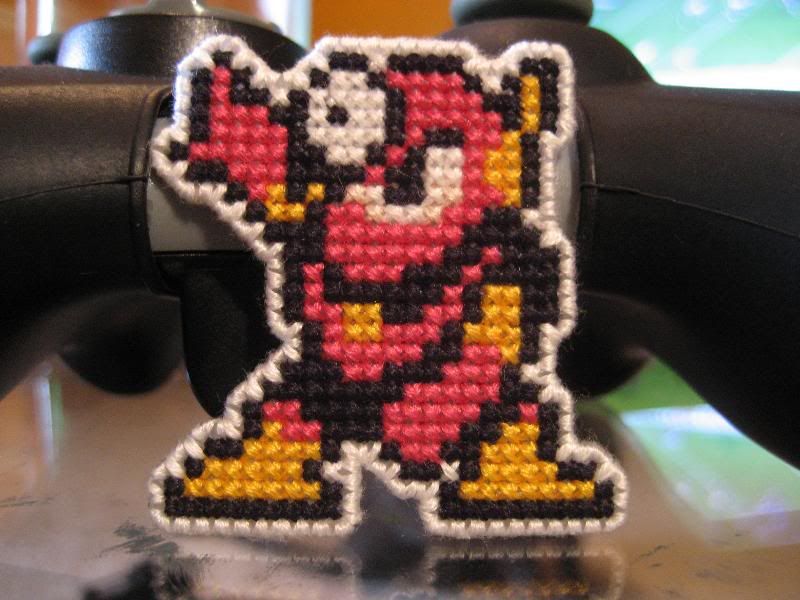 Metal Man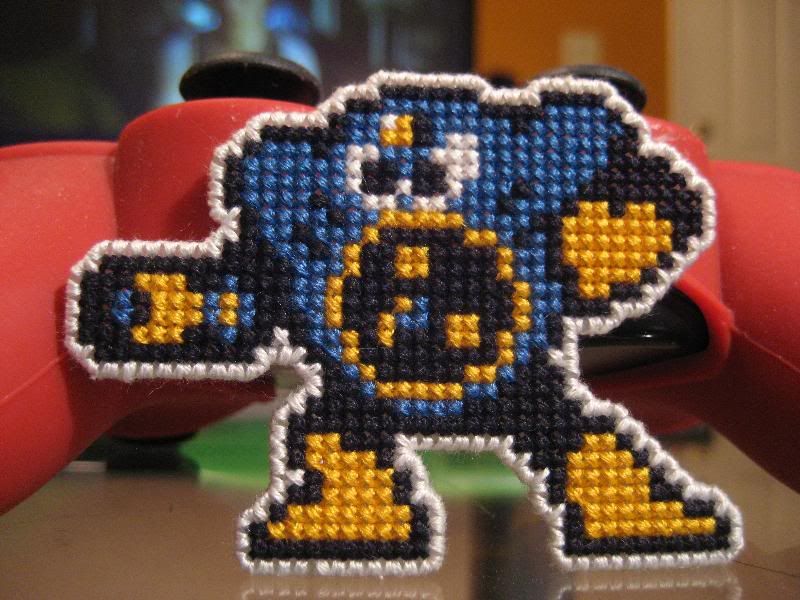 Air Man
Glue is still setting on Air Man, so I will get a picture of them all together tomorrow afternoon! Thanks to all for your comments