Pyper's Projects
Posted: Thu Jan 10, 2013 3:38 pm
Over christmas I have been working on smaller projects between running around like crazy and visiting relatives, so I thought it is time I created my own thread for everything.
One thread to rule them all,
One thread to find them.
One thread to bring them all,
And in the Forum bind them.
In the Thread of Pyper, where the projects lie.
I may also have slipped back into a mild Tolkien obsession following the release of the Hobbit. Coincidentally does anyone know a good way to make fabric look aged that can then be washed once stitched? I'm thinking of a map...
But now, to the projects! Some of these are finished, and some still need to be ironed/framed/etc.
My brother is currently obsessed with Minecraft so I stitched him a set of 8 magnets, one for each of the (first world) ores. I also added obsidian to complete the set, and because you need it to get to the nether so its almost an ore anyway..
I packed them into little paper envelopes as a mini adventure type thing, where you have to find one before you can find the others. oI was pretty happy with how it turned out, and my brother loved it.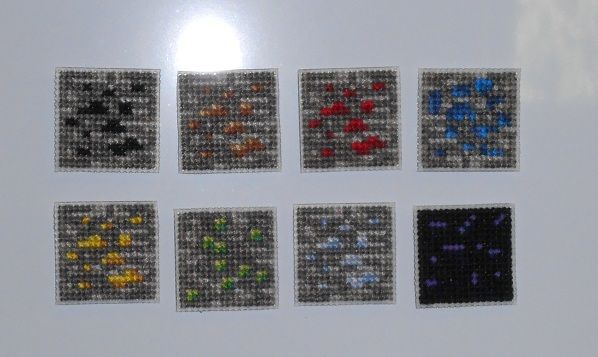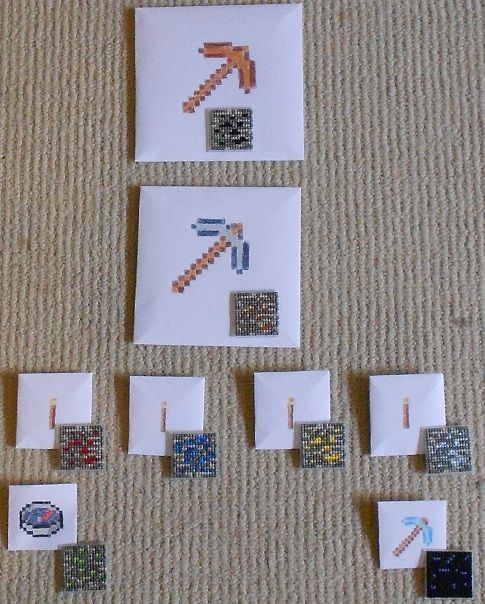 Mr Afternoon T sympathises with the buffoons. Pattern and image credit is in this thread for anyone who wants it:
viewtopic.php?f=7&t=6049&p=49512&hilit=afternoon#p49512
I procrastinated myself a set of Kanto gym magnets around exam time. The magnets on the back are only just big enough to hold them to the fridge, so decorative only. I'm stitching up some pokemon to go with them, using the fire red storage box sprites to keep the size in check.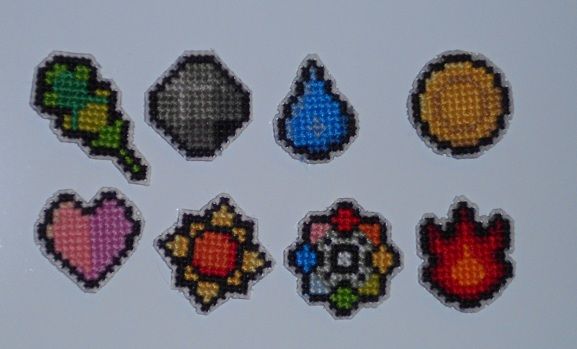 And finally I am learning crochet! Over christmas mum taught me how to make granny squares, so I have decided to make a lap rug. I should be done by winter so I can curl up with it watching/playing things. I'm not sure on the colours but the wool has a slight sentimental aspect to its origins. There will be a black row around these, and then sewn together.