Rank 8 - Statue Mario

Posts: 697
Joined: Sat Apr 02, 2011 6:31 am
This looks amaaaazing. How many fractional stitches, etc. is there? I'm thinking of getting the lion king one, after seeing this, but I'm really bad at fractionals.
Working on:
Retro X & Y! - lost the pattern and fabric, but it's resurfaced

...and i've lost it again lol
Attempting Diamond Painting
Making like three crochet blankets at once #nolife
slowly amassing floss for the old-style Epic Pokemon
---
Rank 6 - Tanooki Mario

Posts: 309
Joined: Mon Mar 19, 2012 10:29 am
Contact:
that's crazy!

great job!
Yinks like to wink and drink pink ink
http://pixelpockets.blogspot.com
http://www.etsy.com/shop/pixelpockets
---
Rank 7 - Kuribo Mario

Posts: 366
Joined: Sat Jul 02, 2011 4:12 pm
Contact:
Awesome work! I think I would have to make cross stitching my full time profession (which I would love of course) in order to stitch as fast as you have been!

While we were on vacation this past week, we went in a hobby lobby in Louisiana and found every single one of the Disney Dreams collection. I have a feeling my wife might be wanting me to eventually stitch one (or all) of them for her, haha.
Current Projects: Crocheting stuff, writing letters, cross stitching stuff oh, and making beer!
The Needle Artist
My Deviantart
---
Rank 3 - Star Mario

Posts: 71
Joined: Thu Dec 22, 2011 11:08 am
Twenty One Weeks:
I think I did around 3000 stitches this week, which is way more than I thought I would. You can see the outline of Belle's head and torso! I won't stitch her this next week, I was thinking of something and want some input. I have quite a bit of extra pearl filament that there isn't much left to do with, and I was thinking of stitching Belle's dress so that it is sparkly. Would that be too much? I think it would be soo pretty

Also arkani, there are lots of fractional stitches where there are characters or backstitching detail involved, but it's not all THAT bad. I found that using a little bit sharper needle on the aida really helps me with the fractional stitches, so don't let them deter you! Anyway, here are pictures: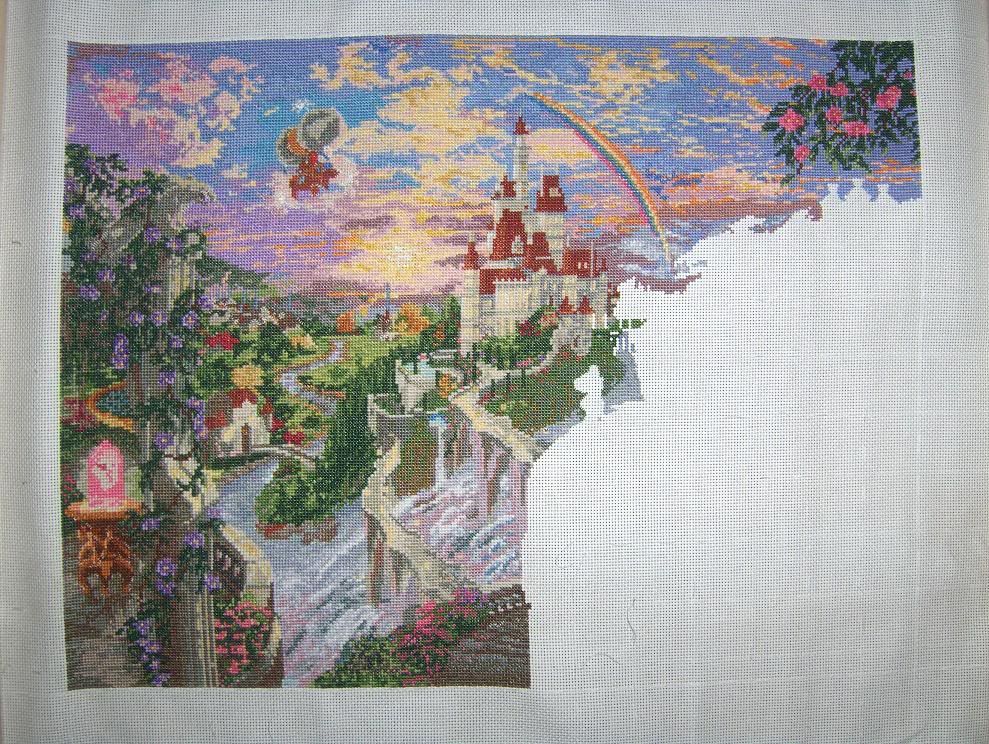 ---
Rank 10 - Cape Mario

Posts: 1017
Joined: Wed Dec 28, 2011 10:13 pm
I don't think using the pearl filament on Belle's dress would be too much at all! A very good idea indeed!
---
Rank 5 - Frog Mario

Posts: 165
Joined: Mon Jun 13, 2011 3:06 pm
You are just too fast for me! You'll be done in no time!
It's looking great so far! I think adding the pearl filament to the dress would be nice, to add that extra sparkle.
---
Rank 3 - Star Mario

Posts: 71
Joined: Thu Dec 22, 2011 11:08 am
Twenty-Two Weeks:
I barely got in my 2000 stitches this week. I had a couple of days where I felt completely listless and didn't want to do much of anything, but I am better now. Also, Mrs. Potts and Chip were actually really difficult to stitch. I think they may have been the most difficult part so far, mostly because of all the different colors in such a small area and a lot of them are 'tweeded' (one strand of 2 different colors worked together). There are also a lot of fractional stitches between the two of them, so add that to the pile... And I think they looks funny for now. Anyway, they are done until backstitching time. I'm not sure if I will get to Belle this week or not. We will see.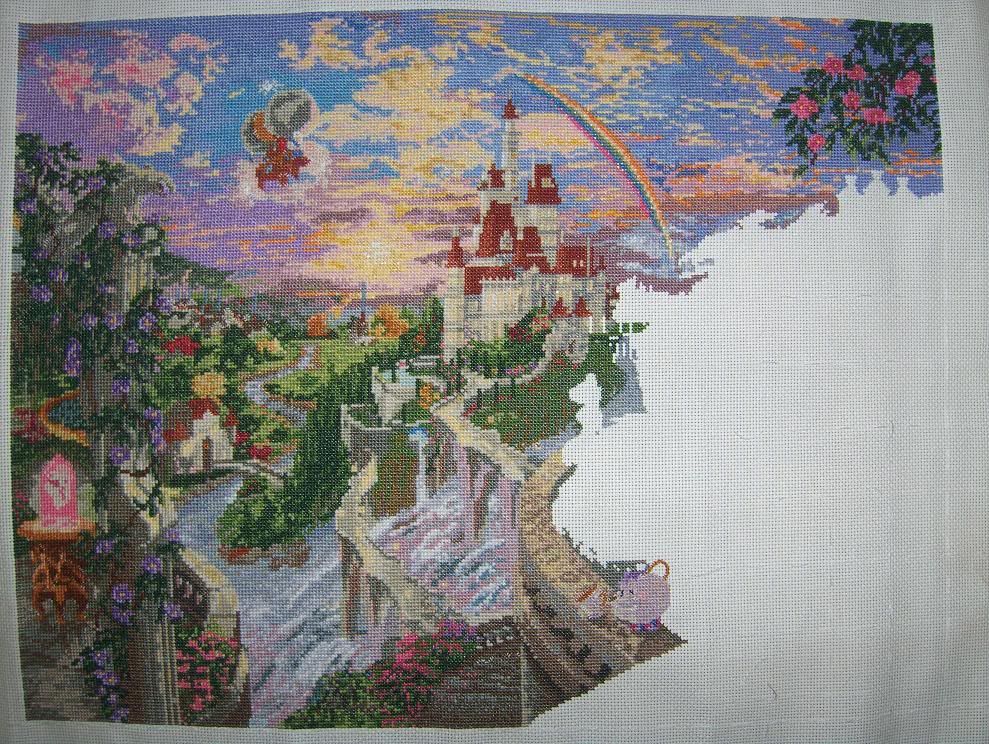 ---
Rank 5 - Frog Mario

Posts: 165
Joined: Mon Jun 13, 2011 3:06 pm
Well, you can see Belle's outline, too. That's almost like having another character done.... almost.
It's coming along nicely.
---
Rank 0 - Little Mario

Posts: 1
Joined: Sun May 27, 2012 11:43 pm
First of all i wanna say hello as i have only just joined up

i found this website by complete mistake. I had the same issue with recieving 2 lots of dark blue instead of the light grey peach and googled to see who to contact and it lead me to this post. How did you get in contact with them to get the correct colour? I started completely different to u as i always work centre outwards so the castle was the first thing i got done. I have to say though this is looking amazing and u are such a fast stitcher. I have been working on it for a week and have only just finished the castle.... Keep up the good work as u have inspired me to try and get a bit more completed so this may be finished in time for my daughters birthday in september!

---
Rank 3 - Star Mario

Posts: 71
Joined: Thu Dec 22, 2011 11:08 am
Hey kingysgirl, bummer that you had the same problem I did with the too much dark blue, but at least we know it can be fixed! I emailed the address that is on the page with the key on it, something like
customersupport@mcgtextiles.com
or something like that. Put the name of the kit in the subject, and let them know how many strands you need of what color - give them the number and the name of the color. Then give them your name and address so they can send it to you. It only took just a few days when I contacted them about it, I think I had the new floss within a week?
Also, make sure you have at least 12 strands of the Medium Dull Purple. I don't think you need 20 like it says either on the card or the key, but the 12 it says on one should be fine. I was short just a couple of strands. Let me know if that helps!
---