So I just got this kit for Christmas, and I am super excited about it. I guess Thomas Kinkade did a bunch of DIsney paintings and they have made 6 of them into cross stitch kits. This one is Beauty and the Beast, so here is the picture the cross stitch is based off of: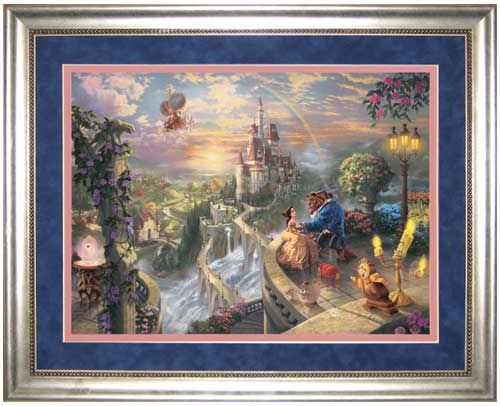 Since it is an official kit and all, I can't post the pattern but it's easy enough to find at Hobby Lobby or JoAnn's, and if you use a 50% off coupon it's only about $20, and for all the floss and everything that's not too bad. I have a little girl who will turn one next week, so I am only able to get in little bits of stitching time, so here is my progress from this last week:
Anyway, I will keep posting WIP pictures as I go, so here goes nothing!
Four Week Progress:
Eight Week Progress:
Twelve Week Progress:
Sixteen Week Progress:
Twenty Week Progress, with castle!
Twenty Four Week Progress:
Twenty Eight Week Progress:
Before Backstitch and French Knots:
Finished Piece: