I'm one of those people who can never do just one project (man how I wish I could) so I end up with a bunch in the process at once and nothing finished. I plan to spend this week and next finishing up old projects rather than starting new ones. Here are some pics of the ones i'm working on.
This one is a set of 3 chili peppers that is a hostess/belated birthday gift. I have to have it finished by the end of the month to take it with me!
A beloved character has been sitting like this for over a year. I want to get to work on him. I feel bad. I sort of forgot about him until I was going through some stitching supplies and found his whole bag (my storage for wip).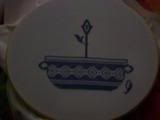 Also been this way for a long time, this is a gift for my mom, but it will probably remain unfinished until others get completed.
I have 2 others I don' have pictures of yet that are sitting work in process....
PLUS my "home is..." that I want to get done too.
Note to self: DO NOT START ANYTHING NEW.